Publications Auxiliary services of the Deutsche Reichsbahn Gesellschaft (DRG) / Deutsche Reichsbahn (DRB)
By Wolf-Dieter Upphoff
In the years up to 1945 the Deutsche Reichsbahn operated numerous services that were connected only partially, or not connected at all, with the operation of the German national railway network. These services spanned long-distance buses, ferries (on lakes and the open sea), door-to-door goods deliveries (including whole goods wagons on the remarkable Culemeyer street roller), air routes, and even the Autobahn network. Some of these services were acquired organically, some were business opportunities, some were expedient, and some came at the behest of politics. This booklet introduces the broad range of auxiliary services of the DRG/DRB.
28 pages. Extensively illustrated with 16 colour and 25 monochrome images and five maps and diagrams. Bibliography.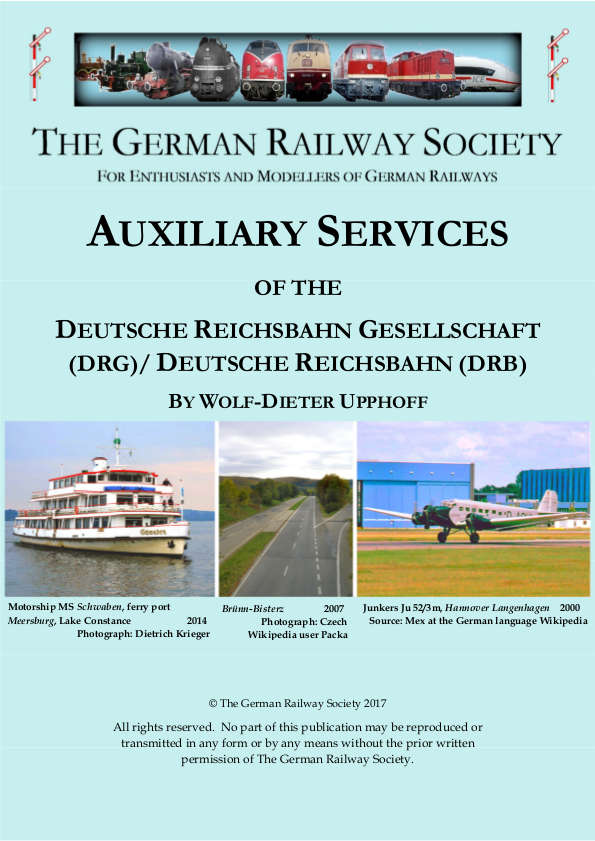 How to buy
On our exhibition stand
Subject to stock availability on the day
Online
Your PayPal cart will be opened in a new window, where you can pay at any time.
UK £6.00
Europe please contact us
Rest of world please contact us
By post
UK £6.00
Europe please contact us
Rest of world please contact us
Please make your Sterling cheque payable to German Railway Society and send along with details of your order to:
Angela Myers-Upphoff
4 Woodmere Avenue
Croydon
Surrey
CR0 7PA
UK
Email socprod@grs-uk.org