Publications | Electric locomotives in Germany Electric locomotives in Germany.
Part 2: from the Länderbahnen to the DRB (1927-1945)
By Wolf-Dieter Upphoff
On its formation in 1920 the newly formed German state railway (the Deutsche Reichsbahn, DR) inherited a mixed selection of electric locomotives. Some underperformed and were unreliable, while others shone with better than expected performance and reliability. The DR was able to build on the operational experiences from these locomotives, many of which were experimental designs, and carry through a national programme of electrification including the design of new locomotives. This book details the designs introduced by the DR, many of which went on to give service into the 1970s and 1980s in both East and West Germany.
The series forms a useful English-language reference for enthusiasts.
Note: our booklet War locomotives of the DRB provides some more information about the electric locomotives of classes E 44 and E 194 that were supplied as part of the German war effort in World War 2.
28 pages, with 41 photographs, 7 technical specifications tables and two diagrams. Selected bibliography.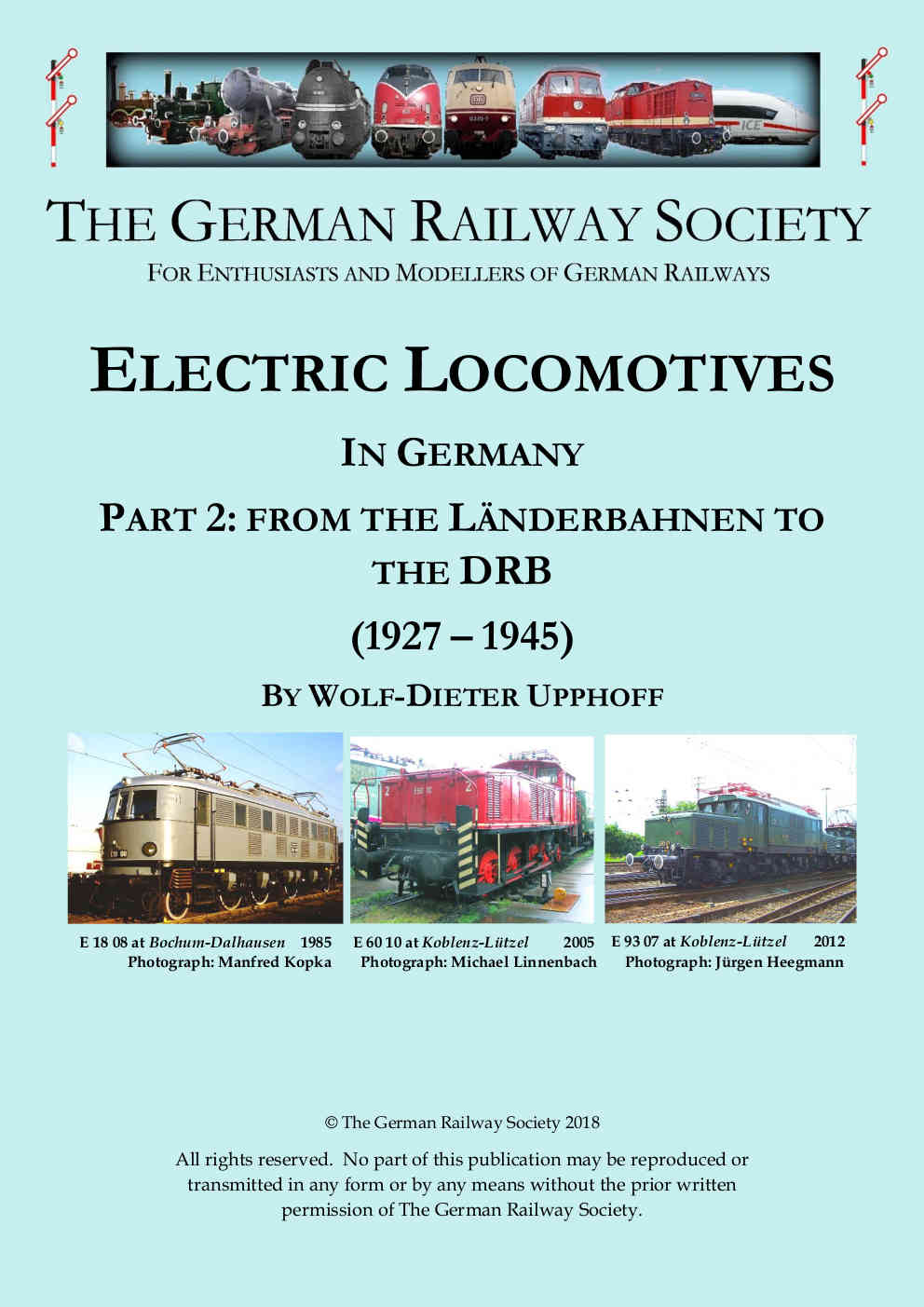 How to buy
On our exhibition stand
£5.00
All titles in series together £17.00
Subject to stock availability on the day
Online
Your PayPal cart will be opened in a new window, where you can pay at any time.
UK £7.00
All titles in series together, UK £19.00
Europe please contact us
Rest of world please contact us
By post
UK £7.00
Europe please contact us
Rest of world please contact us
Please make your Sterling cheque payable to German Railway Society and send along with details of your order to:
Angela Myers-Upphoff
4 Woodmere Avenue
Croydon
Surrey
CR0 7PA
UK
Email socprod@grs-uk.org