Publications | Electric locomotives in Germany Electric locomotives in Germany.
Part 3: Locomotives of the DB, DR and DBAG (1945-2020)
By Wolf-Dieter Upphoff
In 1945 Germany was divided between the Allied powers, and the Deutsche Reichsbahn (DRB) and its assets including rolling stock were in time distributed to the Deutsche Bundesbahn (DB) in West Germany and Deutsche Reichsbahn in East Germany (DR-DDR). The fortunes of the two railway administrations reflected the social conditions in each country, but both inherited a network electrified at 15kV AC at 16.6Hz and both sought to modernise their locomotive fleets with new, higher-power and higher-speed locomotives. After the two countries came together again, the railway administrations were unified. Trials of the electric locomotives from the two fleets led to a redistribution of East and West German classes across the country. A policy of reform was introduced and DBAG, a public-sector body, lost responsibility for detailed design of rolling stock. Since then locomotive design and development has been in the hands of private builders.
This is the third volume in our series Electric Locomotives in Germany. It covers the period of division in 1945 to reunification in 1990, and the years since then until 2020 including the formation of Deutsche Bahn AG, the successor to DB and DR. Locomotives up to 1992 are described in the main text, and an appendix covers the designs of private industry since that date. The series forms a useful English-language reference for enthusiasts.
32 pages, illustrated throughout with 63 colour and three black and white photographs, one diagram and one map. Technical data and select bibliography.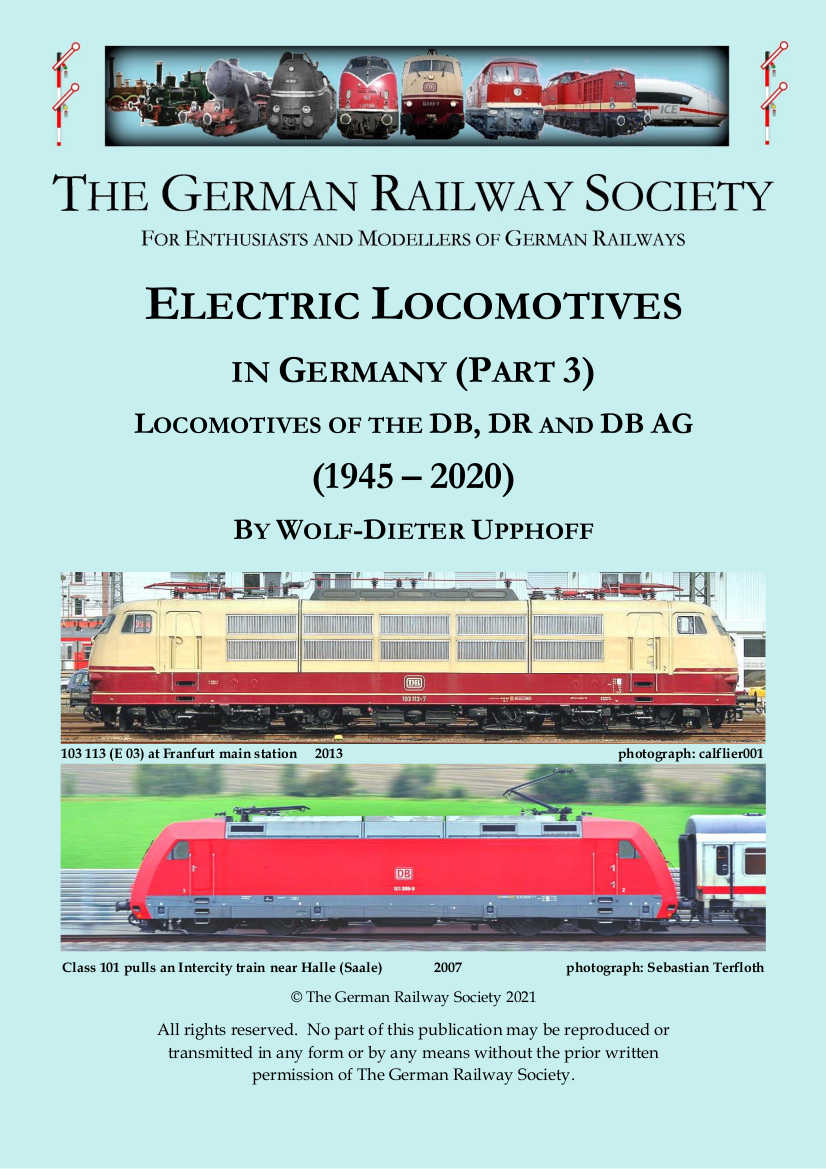 How to buy
On our exhibition stand
£6.50
All titles in series together £17.00
Subject to stock availability on the day
Online
Your PayPal cart will be opened in a new window, where you can pay at any time.
UK £8.00
All titles in series together, UK £19.00
Europe please contact us
Rest of world please contact us
By post
UK £8.00
Europe please contact us
Rest of world please contact us
Please make your Sterling cheque payable to German Railway Society and send along with details of your order to:
Angela Myers-Upphoff
4 Woodmere Avenue
Croydon
Surrey
CR0 7PA
UK
Email socprod@grs-uk.org